I received a failed login attempt notification, what do I do?
Login Failure Warnings

An email (and text message) notification is generated anytime you or someone else unsuccessfully tries to login to your account. One of the first things we do to protect your account is notify you right away if someone tries and fails to login to your account.  If this happens, you'll receive a notification that looks like this:

Subject: WARNING: Failed Login Attempt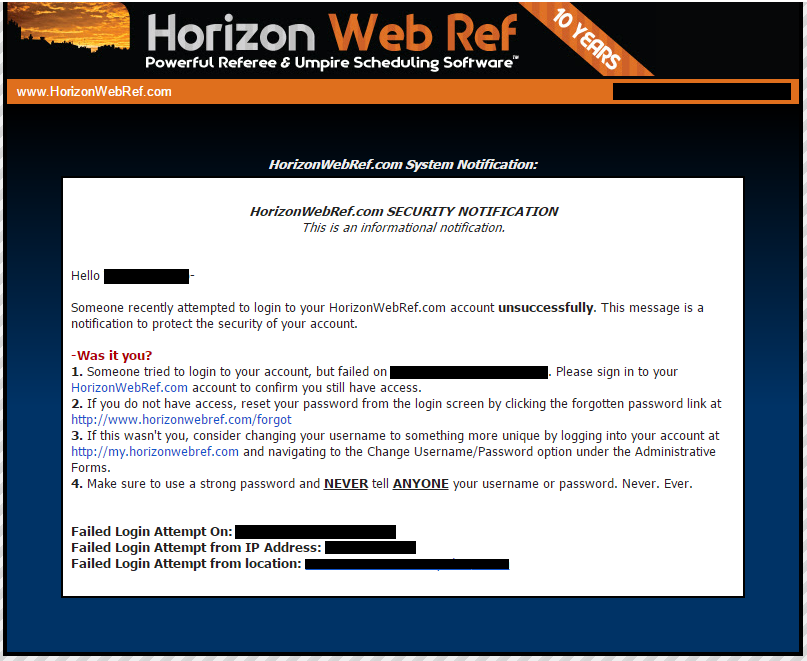 What do I do?
First, you need to determine if this was you.  If this was you, then you don't need to do anything.  If you don't know your correct username and/or password, you can reset it from http://horizonwebref.com/forgot

If this wasn't you, you don't need to panic, but you should take action.  In most cases, another user that has a similar username to you may have accidentally and harmlessly tried to use your username by mistake. It is possible, however, that someone was maliciously trying to gain access to your account.  In either case, you should immediately check to see if you still have access to your account by logging in at http://my.horizonwebref.com.  If you can't login, you should immediately reset your password at http://horizonwebref.com/forgot

Once you login, you should change your username to prevent any further failed login attempts.  You can (optionally) change your password, too.  You can do this by going to Administrative Forms >> Change Username/Password.

Remember to NEVER give your username or password to ANYONE.  That includes your scheduler, friends, family, other officials, technical support staff, your pet parrot, etc.  You can see this support article for help with creating a secure password.

The HorizonWebRef.com technical support staff will never ask you for your username or your password and we will never ask you for your username and password in an email notification.  If you receive security notifications from us, you should always open a new browser window and manually type http://my.horizonwebref.com into your web browser's URL address bar to ensure you're visiting a genuine HorizonWebRef.com login page.